WandaVision sitcom Review
"And that makes you THE SCARLET WITCH!!"
Inarguably one of the best lines in Marvel history, WandaVision is a lusciously, confidently, and elegantly bewitching creation which we've all been waiting for so wistfully.
Mirroring classic TV sitcoms through the years, each episode was cunningly and creatively constructed. From script, to delivery, to lighting and cinematography, everything was reinvented immaculately. WandaVision's script, an emotionally packed narrative, operates as an influential and an honest examination of grief and heartache and their unthinkable consequences.
Using both Comedy and drama to wield a firm power over its viewers, the show's sinister undertones give it a well-placed sense of immensity and texture. The use of both dark and light elements alongside a parodic sense of direction invite you deeper in with every ephemeral episode.
With a gradually built up suspense, WandaVision does a great job in developing its characters outside of the Marvel movies context. Giving each one of them emotional depth and range far beyond what you might expect, all while carefully dancing around old-dated television sitcom schemes, only using them to their advantage and to further thickening the already messed up and complicated plot.
Elizabeth Olsen's undeniably dazzling and versatile performance is a class act of its own. She was able to effortlessly slip into various roles at once, while simultaneously showing an immeasurable amount of emotional excavation and range. WandaVision also gloats with a handful of excellent performances, such as Kathryn Hahn', Paul Bettany' and the fabulous Teyonah Parris.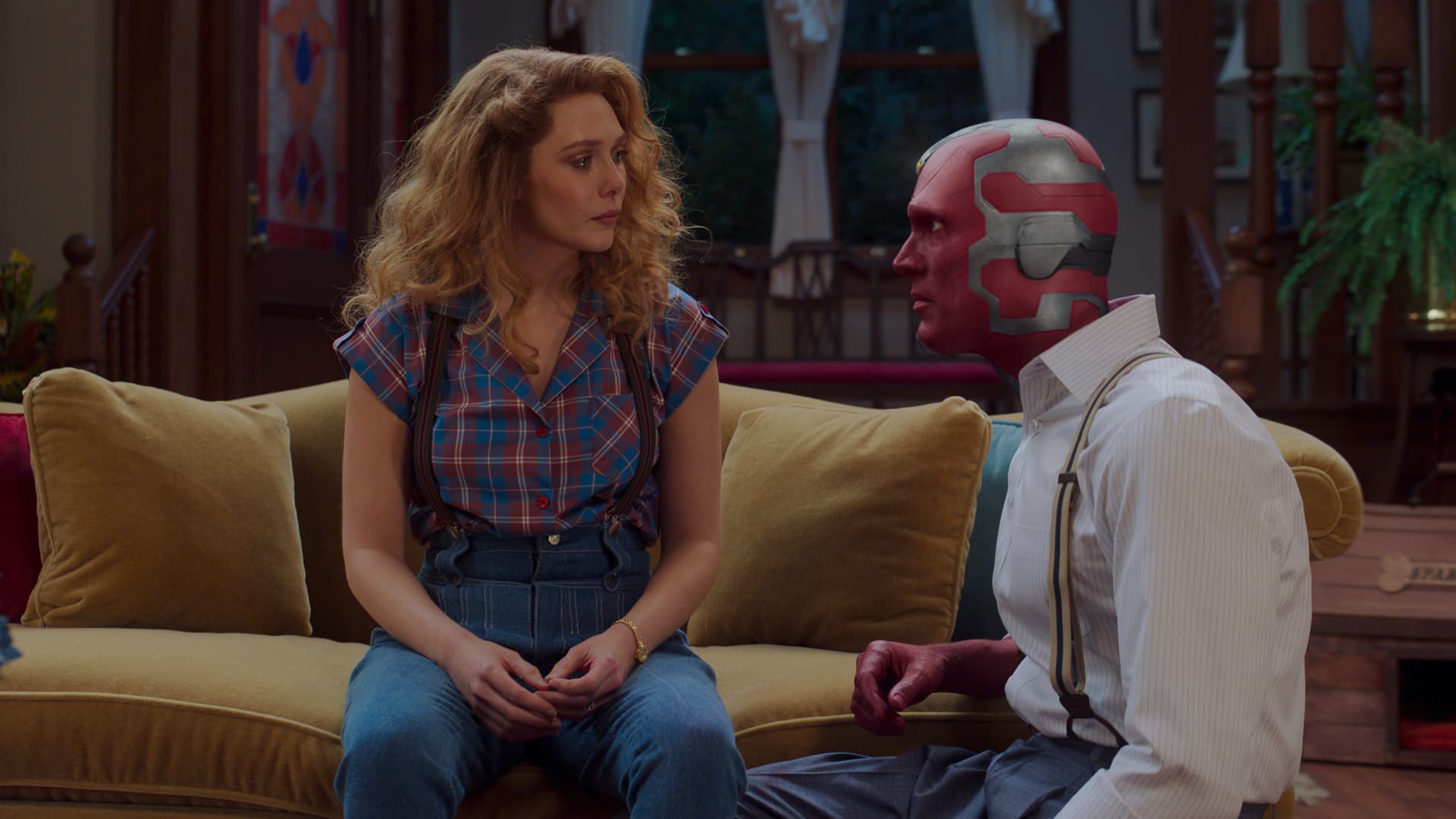 Unquestionably, WandaVision's most prominent aspect lies deep within its heavily worrying ambiance. With so much suspense and expectancy, the cleverly hidden easter eggs when placed face to face with the shimmering, colorful and lavish special effects created a seamlessly changeable atmosphere, ever gracefully transitioning between different versions of the show and masterfully showing the skill of the artistic crew who are never scared of getting bizarre.
WandaVision is at its core a love letter to television itself. Nothing can ever compare to such a start to Marvel's new phase or what I like to call The scarlet witch phase.